The Shasta County SMART Workforce Center sits at the northern end of the Sacramento Valley, surrounded by vast and beautiful mountain ranges. The area provide a wide array of outdoor activities including two lakes, national parks, and the beautiful Sacramento River.
Serving as our headquarters office, the SMART Workforce Center also serves more than 180,000 county resident. Located at 760 Cypress Ave, in downtown Redding, The SMART Workforce Center is a short drive to the famous Sundial Bridge, world-class fishing, and over 200 miles of hiking and biking trails.
---
High School CTE in Shasta County
SMART Hosted Seminars
In early 2021, Smart was proud to host Dr. Robert Eyler, a sought-after keynote speaker and Professor of Economics at Sonoma State University, to give 30-minute updates regarding the state of the economy and economic outlooks for 2021 in each of the counties that Smart serves.  Click play to view the video or click on the link below the video to access a PDF copy of the slides.
Shasta County:
Labor Market Information for Shasta County: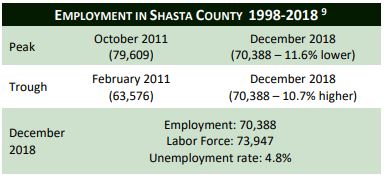 Labor force statistics include both the employed and the unemployed, excluding only those who have stopped looking for work (discouraged workers) and those who are voluntarily not in the labor force. In December 2018, 73,947 individuals participated in the Shasta County labor force, of these 70,388 were employed, and 3,559 were unemployed. Over the last 20 years, employment in the county was at it's highest in October 2011 and lowest in February 2011. As of December 2018, the unemployment rate for the county was 4.8%, higher than the unemployment rate of California (4.1%) and the United States (3.9%).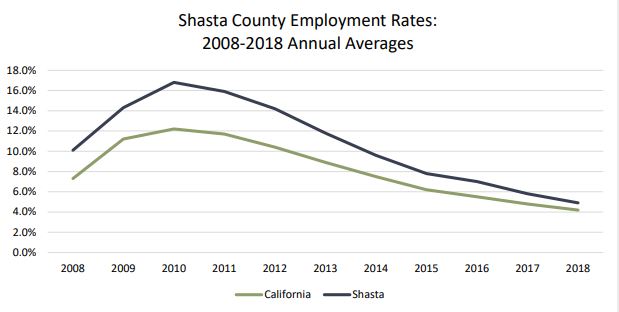 ---
For the most up-to-date information on the Labor Market for Shasta County:
Click Here
For More Information on the Labor Market for Shasta County
Click Here
Shasta Services
We can help you in many ways in Shasta County, learn about how we can help:
Shasta Partners
Smart works with these partners in our community in Shasta.