Trinity County has an area of over 3,200 square miles and not a single stoplight to slow you down. The SMART Workforce center, located at 30 Arbuckle Ct, in Weaverville, California is at the heart of cultivating the dynamic workforce.
From the beautiful panoramic views of the Alps, to lakes and rivers, Trinity County provides an array of year-round recreational, entertainment, and cultural activities. The SMART Workforce Center serves a population of over 12, 500 residents in Trinity County.
---
SMART Hosted Seminars
In early 2021, Smart was proud to host Dr. Robert Eyler, a sought-after keynote speaker and Professor of Economics at Sonoma State University, to give 30-minute updates regarding the state of the economy and economic outlooks for 2021 in each of the counties that Smart serves.  Click play to view the video or click on the link below the video to access a PDF copy of the slides.
Trinity County:
Labor Market Information for Trinity County: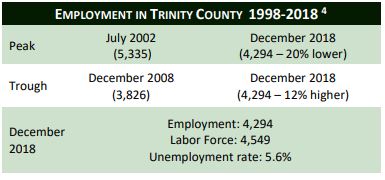 Labor force statistics include both the employed and the unemployed, excluding only those who have stopped looking for work (discouraged workers) and those who are voluntarily not in the labor force. In December 2018, 4,549 individuals participated in the Trinity County labor force which includes employed and unemployed individuals. Of these, 4.294 were employed and 255 were unemployed. Over the last 20 years, employment in the county was at its highest in July 2002 and lowest in December 2008. As of January 2016, the unemployment rate for the county is 5.6% which is higher than the state's rate of 4.1% and the nation's rate of 3.9%.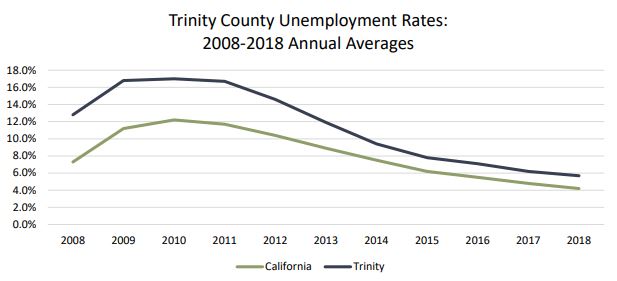 ---
For the most up-to-date information on the Labor Market for Trinity County:
Click Here
For more information on the Labor Market for Trinity County:
Click Here
Trinity Services
We can help you in many ways in Trinity County, learn about how we can help:
Trinity Partners
Smart works with these partners in our community in Trinity.