The Siskiyou County SMART Workforce Center is located at 582 Main Street, in Weed, California, in the lower region of the Klamath Mountain Range. The area provides an array of year-round recreational, entertainment, and cultural activities, from camping, snow skiing, and dog sledding in the winter.
Situated just north of Black Butte and Mount Shasta, the SMART Workforce Center serves more than 43,000 county residents in Siskiyou County.
---
SMART Hosted Seminars
In early 2021, Smart was proud to host Dr. Robert Eyler, a sought-after keynote speaker and Professor of Economics at Sonoma State University, to give 30-minute updates regarding the state of the economy and economic outlooks for 2021 in each of the counties that Smart serves.  Click play to view the video or click on the link below the video to access a PDF copy of the slides.
Siskiyou County:
Labor Market Information for Siskiyou County: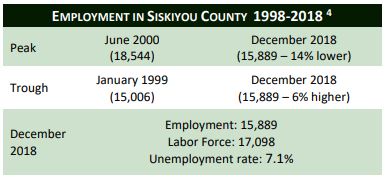 Labor force statistics include both the employed and the unemployed, excluding only those who have stopped looking for work (discouraged workers) and those who are voluntarily not in the labor force. In December 2018, 17,098 individuals participated in the Siskiyou County labor force, of these, 15,889 were employed and 1,209 were unemployed. Over the last 20 years, employment in the county was at its highest in June 2000 and lowest in January 1999. As of December 2018, the unemployment rate for the county was 7.1%, higher than the unemployment rate of California (4.1%) and the United States (3.9%).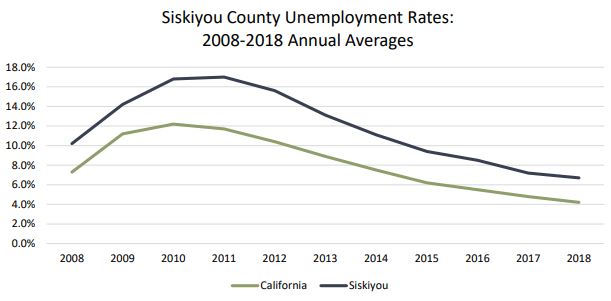 ---
For the most up-to-date information on the Labor Market for Siskiyou County:
Click Here
For More Information on the Labor Market for Siskiyou County:
Click Here
Siskiyou Services
We can help you in many ways in Siskiyou County, learn about how we can help:
Siskiyou Partners
Smart works with these partners in our community in Siskiyou.